Meezer Meme Monday
We were also tagged by

Goldie and Shade
for a second meme.
It's an easy one, all you have to do is tell everyone 3 things that are new with you! Link it back to the kitty who gave it to you and
Tigmuthep
and pass it on to 3 more kitties you'd like to know more about!
First is the new place I like to sleep: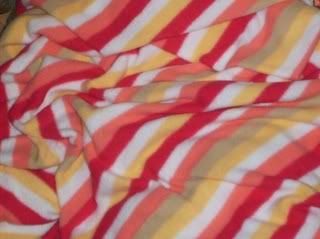 This blanket is very soft and wonderful. It is just laying on the floor sometimes and I go lay on it.
Second is my new toy:
It is a funny toy, but it is also very fun to play with. I only play with it in the human litterbox room. It moves across the floor in there very quickly and there are places for me to toss it and then fish it out of (Meowm says no, not the toilet, whatever that is). Also that funny end of it kinds feels good in my mouth.
Third is my new outdoor friend:
This kitty has been hanging around for a long time. We chat through the window. Meowm wishes she could bring this one in (she wishes she could bring them all in). I am not sure I would like this one inside.
I am clueless who to tag. I have seen lots of kitties already have been tagged, so just feel free to play if you want to!
Labels: Meowm tried to shrink the picutres but it didn't work.